Timeline
---
Accruit expands into escrow services with the acquisition of Bankers Escrow, one of the largest full service escrow companies in Colorado.
Accruit COO, Karen Kemerling, assumes new role as president from Brent Abrahm, Accruit's CEO, to whom she will continue to report.
Accruit offers broker-accredited 1031 Exchange workshops for real estate continuing education credit.
PwC and Accruit celebrate five years in joint business relationship providing comprehensive 1031 like-kind exchange (LKE) programs that combine PwC's LKE tax and technology capabilities with Accruit's qualified intermediary (QI) expertise.
PwC and Accruit are named as the Associated Equipment Distributors' (AED) Preferred Providers of like-kind exchange services.
Accruit strengthens innovation commitment with the addition of Dan Green, Director of Technology and Operations.
Accruit expands real estate division with the addition of Paul Holloway, Director of Real Estate Exchange Operations.
Accruit expands team with business development and marketing additions.
Accruit hires Karen Kemerling to manage operations and growth strategies.
Steve Chacon, Accruit's Director of Exchange Operations, assumes the role of treasurer and serves as an executive board member of the Federation of Exchange Accomodators (FEA).

On September 30, 2011, Accruit completed the stock acquisition of North Star Deferred Exchange (NSDE), led by Martin Edwards, headquartered in Chicago, Illinois, from BMO Financial Corporation. Since 1997, North Star Deferred Exchange LLC has been a national provider of QI and Exchange Accommodation Titleholder (EAT) services for complex exchanges of both real and personal property, specializing in reverse, build-to-suit and improvement exchanges. Included in this acquisition is NSDE's Independent Director/Independent Manager Services. These specialized services facilitate lender required, bankruptcy-remote LLC structures, and will be continued and expanded under Accruit's ownership.
Accruit relocates it headquarters office to downtown Denver, Colorado.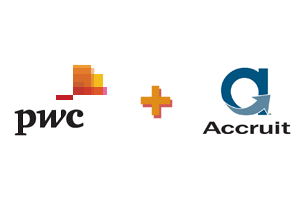 In 2010 Accruit announced an unprecedented new Joint Business Relationship with tax advisory leader PwC. PwC and Accruit have more than 20 years of combined experience providing LKE program services. The joint business relationship enables PwC and Accruit to work together where permitted by professional and regulatory requirements to deliver a comprehensive LKE program solution that leverages PwC's experience in providing LKE tax advisory services and Accruit's knowledge in delivering LKE QI services.
Also, in 2010 Brent Abaham is elected as the President of the Federation of Exchange Accomodators (FEA).
Association of Leaders in Equipment Distribution (AED) selects Accruit as the their Preferred Provider for the 6th consecutive year.
Accruit partners with Inter-Atlantic Group, a private equity firm from New York, to increase investments in Accruit's 1031-LKE software technology. 
Joe Lane, strategic advisor and executive business advisor joins Accruit's Board of Directors.
Accruit and Ritchie Bros. Auctioneers form Strategic Marketing Relationship and Peter Blake, CEO of Ritchie Bros. joins the Accruit Board of Directors.
See press release: Accruit and Ritchie Bros - Exclusive 1031 LKE Provider
The original partners sought the involvement of KineticWorks to develop an industry-specific software design for e-LKE. In early 2002, KineticWorks was acquired by Accruit to continue the expansion of the unique software and like-kind exchange process. This advanced software continues to evolve so as to better serve the company's vast array of potential customers (Exchange Manager for singles and also for programs). Accruit is also the only QI in the country with a patent process for Like-Kind Exchanges. *U.S. Patent No. 7,379,910, and other patents pending.
The company was formed in March of 2000 by industry pioneers Brent Abrahm and Todd Fisher.  In the beginning, the company operated as an Application Service Provider (ASP) and qualified intermediary (QI), for hosted software solutions based on "like-kind" exchanges. The orginal company was "e-LKE," and its early accomplishments include the creation of one of the country's first high-volume repetitive personal property 1031 like-kind exchange programs.