Partners
HomeUnion

Accruit partners with HomeUnion, Inc. to provide 1031 like-kind exchanges in residential real estate for both single-family rental (SFR) and multifamily assets. This innovative partnership provides Accruit's clients with access to the largest online inventory of pre-vetted, fully managed properties in several metros nationwide to fulfill their exchange requirements. The HomeUnion platform enables individuals to invest remotely in residential real estate using a combination of big data covering 110 million homes and 200,000 neighborhoods nationwide.
Get started browsing replacement properties through HomeUnion.
PricewaterhouseCoopers (PwC)

PricewaterhouseCoopers (PwC) and Accruit have partnered since 2010 to provide integrated 1031 like-kind exchange (LKE) program services. This unique joint business relationship combines PwC's LKE tax and technology capabilities with Accruit's qualified intermediary (QI) services to provide a comprehensive like-kind exchange program, which clearly segregates tax and compliance services from QI and treasury services, pursuant to Treasury regulatory requirements.
Read more about PwC and Accruit's joint business relationship.
Ritchie Bros.

Since 2007, Accruit has partnered with Ritchie Bros. Auctioneers, the world's largest industrial auctioneer, as their exclusive provider of like-kind exchange services to businesses in the construction, trucking, agriculture, and heavy equipment leasing industries. Like-kind exchanges through Accruit are seamlessly integrated into Ritchie Bros. processes to provide sellers a safe means of achieving tax deferral upon the disposition of their used assets at on-site and online auctions, as well as at EquipmentOne, Ritchie Bros.' secure online marketplace .
Read more about Accruit's 1031 like-kind exchange services for Ritchie Bros. Auctioneers.
Associations
Associated Equipment Distributors (AED)

In addition to having been members for more than a decade, Accruit partners with PwC as the preferred providers of like-kind exchange services to the Association of Equipment Distributors (AED), an international trade association representing companies involved in the distribution, rental and support of equipment used in construction, mining, forestry, power generation, agriculture and industrial applications.
Equipment Leasing and Finance Association (ELFA)

The Equipment Leasing and Finance Association (ELFA) is the trade association representing financial services companies and manufacturers in the $903 billion U.S. equipment finance sector.  Accruit's board member, Joe Lane, has been a director, vice chairman and chairman of the ELFA, and a trustee and chairman of the Equipment Leasing and Finance Foundation, an organization founded exclusively for the benefit of and to carry out the charitable, educational and scientific purposes of the ELFA.
Federation of Exchange Accommodators (FEA)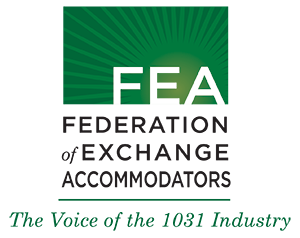 Accruit is a board-level member of the Federation of Exchange Accommodators (FEA) and active in the organization's efforts to engage and educate legislators and others on the value that 1031 exchanges represent to the nation's economy. Brent Abrahm, Accruit's CEO, is a former FEA president and currently the co-chair of the association's Government Affairs Committee. Steve Chacon, Accruit's Director of Exchange Operations, also sits on the Government Affairs Committee and is the FEA's President-Elect.