1031 Exchange Replacement Property Types
Event Main Info
Image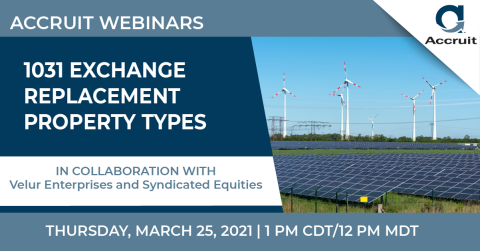 The Tax Cuts and Jobs Act of 2017(TCJA) eliminated personal property exchanges, but real property exchanges are alive and well. This webinar will summarize how the TCJA affected 1031 exchange with a focus on replacement property types including Delaware Statutory Trusts (DSTs), land investments, and renewable energy real estate.
Date: Thursday, March 25th, 2021
Time: 1:00-2:00 PM CDT / 12:00-1:00 PM MDT
Join Lisza Guylas of Velur Enterprises, Jessica Healy of Syndicated Equities, and Max Hansen of Accruit, as they discuss 1031 exchange and a variety of replacement property options. Learn about renewable energy real estate, ownership structures, and land trusts. 
Event Additional Info
Lisza Gulyas, professional Land Investment Specialist with Velur Enterprises, Inc.
Lisza works with individuals to help diversify financial portfolios to include land investments, an alternative to stock market and traditional real estate investments. She works with savvy and the conservative investor and wealth managers to educate and invest in pre-developed, highly researched land, in a high-growth path of development, ready to add to an investment portfolio with excellent returns.  Lisza works with individuals to purchase renewable energy real estate, industrial, mixed-use zoned properties and assists clients with cash, stocks, bonds, annuities, 401k's, IRA's, Trusts, and 1031 exchange.
Jessica Healy, Director of Business Development with Syndicated Equities Group
Jessica has been helping clients defer capital gains taxes since 2013 and is the Director of Business Development at Syndicated Equities. She is responsible for finding both on and off-market investment opportunities. Additionally, Jessica manages growth initiatives by expanding our investor base, which includes individuals and families seeking to place capital from a Section 1031 ("like-kind") exchange. Jessica holds a bachelor's degree from the University of Wisconsin-Madison and a graduate certificate in Management from Northwestern. Prior to joining Syndicated, Jessica worked in sales at United Airlines and Insight Global. She holds her Series 63 and Series 22 certifications and is a licensed real estate broker in the state of Illinois. Jess lives with her partner, Dr. Tom Kaminsky, their two sons, their hunting dog and several backyard chickens in Salt Lake City, Utah.
Image

Max A. Hansen JD, CES®, Managing Director with Accruit, LLC
Max works out of the Accruit Western Region office in Dillon, MT and his home office at Plymouth, UT.Prior to joining Accruit in July 2018 and for 27 years, Max was the President and CEO of American Equity Exchange, Inc., one of the first qualified intermediary companies in the Rocky Mountain region.Max is a Past President and Board member of the Federation of Exchange Same as intermediary, facilitator, or Qualified Intermediary. The party who facilitates a tax-deferred exchange by acquiring and selling property in an exchange to aid the taxpayer in complying with Section 1031 and all applicable rules. Accommodator s and still serves on their Government Affairs Committee. He has many years of experience in promoting the benefits of 1031 exchanges for taxpayers and for the economy in general.Max regularly conducts seminars and appears on panels of experts around the country on the subject of Section 1031 exchanges.