Accruit Website Design Refresh
We are excited to introduce a new look and flow to our website. The changes just weren't for appearance's sake; we listened to our clients, we watched their interactions at Accruit.com, and ultimately, we learned how they prefer to search for information on 1031 exchanges.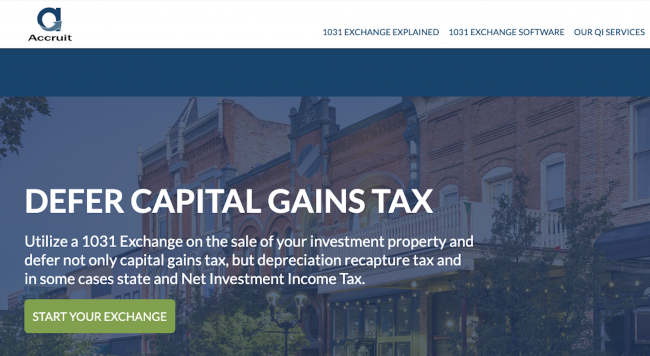 Home Page Design
Accruit strives to stay on the cutting edge of the Internal Revenue Code Section 1031 states that "no gain or loss shall be recognized on the exchange of property held for productive use in a trade or business or for investment if such property is exchanged solely for property of like kind which is to be held for productive use in a trade or business or for investment." 1031 Exchange industry, our website is no exception. We simplified the overall design of our home page achieving a more modern, bolder look. We push ourselves to be the Qualified Intermediary (QI) revolutionizing the 1031 exchange industry and as such, we made these website modifications to remove distractions and help our clients get to their destination in as few as clicks as possible.
Main Navigation Menu
In addition to the website design changes, we consolidated our main navigation menu. By condensing two categories into one, new category, Our QI Services, are now front and center.
Through our research we found that our clients are mainly looking for information on the basics of a 1031 exchange, education on specific 1031 exchange situations, and Accruit's service offerings as a Qualified A person acting to facilitate an exchange under section 1031 and the regulations. This person may not be the taxpayer or a disqualified person. Section 1.1031(k)-1(g)(4)(iii) requires that, for an intermediary to be a qualified intermediary, the intermediary must enter into a written "exchange" agreement with the taxpayer and, as required by the exchange agreement, acquire the relinquished property from the taxpayer, transfer the relinquished property, acquire the replacement property, and transfer the replacement property to the taxpayer. Intermediary . With our updated main navigation menu we made all three of these popular topics more accessible.
We look forward to watching you all interact with our revamped website, and we hope you find all the 1031 exchange information you are looking for in as few as clicks as possible.