Accruit Offers Continuing Education Credit for Real Estate
Learn about Accruit's free 1031 Like-Kind Exchange workshops for anyone interested in the execution of successful 1031 real estate exchanges.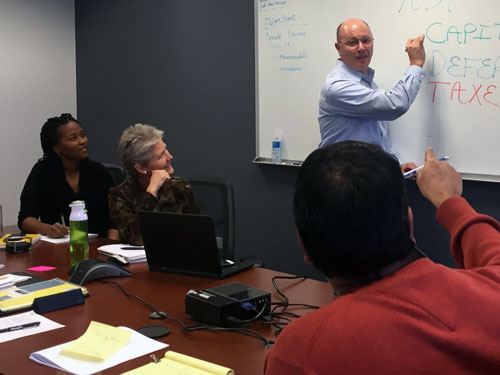 Denver, Colorado – January 20, 2015

Accruit, the nation's leading provider of qualified intermediary and 1031 like-kind exchange program solutions, offers broker-accredited 1031 Exchange workshops for real estate continuing education credit. These complimentary classes are appropriate for anyone interested in better understanding the processes and requirements for the execution of successful 1031 real estate exchanges, including realtors and real estate agents, investment property owners, certified financial planners, accountants, and attorneys.
Workshops are available for two, three, and four hours, for which students may receive continuing education (CE) credit towards real estate license renewal, and cover the following topics:

• History of Tax A 1031 exchange conducted under the safe harbor 1991 Treasury Regulations wherein the replacement property is received up to 180 days after the disposition of the relinquished property. Typically what people mean when referring to a 1031 exchange, Starker exchange, like-kind exchange, delayed exchange, etc. Deferred Exchange s
• Internal Revenue Code Section 1031 states that "no gain or loss shall be recognized on the exchange of property held for productive use in a trade or business or for investment if such property is exchanged solely for property of like kind which is to be held for productive use in a trade or business or for investment." 1031 Exchange Terminology
• Steps to Complete an Exchange
• Specific Examples of Exchanges
• Issues of Choosing a Qualified A person acting to facilitate an exchange under section 1031 and the regulations. This person may not be the taxpayer or a disqualified person. Section 1.1031(k)-1(g)(4)(iii) requires that, for an intermediary to be a qualified intermediary, the intermediary must enter into a written "exchange" agreement with the taxpayer and, as required by the exchange agreement, acquire the relinquished property from the taxpayer, transfer the relinquished property, acquire the replacement property, and transfer the replacement property to the taxpayer. Intermediary
• Miscellaneous Issues in Exchanging
Accruit's continuing education courses are taught by Certified Exchange Specialists with more than 20 years of experience in real estate exchanges. Accruit also provides 3-5 minute videos that will educate anyone involved in the 1031 process on their YouTube channel, youtube.com/Accruit.
Section 1031 of the tax code allows owners of qualified real estate or personal property (such as business use assets) to sell property without having to pay taxes on the gain from the sale, as long as this revenue is used to acquire like-kind replacement property. To realize the benefits of a 1031 exchange, a property owner generally employs the services of a qualified intermediary (QI) to facilitate the exchange. Accruit will work with you to properly structure your tax-deferred exchange.
Download the PDF and call or e-mail Accruit to schedule a workshop for your company or real estate group:
1-866-397-1031
1031u@accruit.com